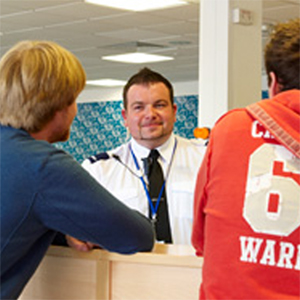 Other Services.
Reception Security
When implementing security measures it's all too easy to over look your reception area. Clearwater Security reception officers are able to perform additional duties such as meeting and greeting visitors, giving directions, answering the telephone and administrative tasks, and as you would expect the safety and security duties shall take precedence over any additional duties at all times.
Staff Surveillance
We also offer an employee monitoring service: employers may have a variety of reasons for monitoring staff. For example, such monitoring may be required in order to check the quality of customer service, to ensure the proper health and safety of staff, to review staff skills and competence, or to discover if there has been any criminal or other illegal activity committed by staff. All of these can be legitimate reasons.
Close Protection
Clearwater Security are specialists in providing security solutions to their clients. We have seen an increase in the number of clients within the UK requesting close protection officers over the last 18 months.
Whether you require security on a one-to-one or special function basis we can provide close protection personnel as well as advanced security and transportation. Our close protection officers are highly trained individuals with a proven track record of providing a high quality professional service.
Consultancy
Clearwater Security has many years of experience in providing security risk assessments.
We can provide highly trained officers to protect high value assets in transit or storage and give specialist advice on the transportation and static security of physical assets, tailored to reflect your specific requirements and the level of risk.
There are many economical benefits attached to installing a CCTV surveillance system, Clearwater Security conduct site surveys to install and upgrade any existing systems, this also includes the installation of covert cameras giving you evidence analysis in accordance with the Data Protection Act.
Investigation and Loss Prevention
Our aim is to minimise and reduce losses caused by dishonesty. We are able to assist you with fraud, loss prevention and detection though the deployment of undercover operatives in any environment to obtain first hand evidence of any unlawful activity or malpractice
Certificated Bailiff
Bad debt and late payment are major problems for many businesses and are one of the most often cited causes of company failure. We can also provide you with our certificated bailiff who can act as a bridge between you and the tenant.
Our bailiffs ensure that the tenants pay the arrears swiftly. We offer our clients a real advantage when it comes to recovering debt. We can also make helpful suggestions as to how you might start the litigation process and can even provide information about your debtor to help you assess the likelihood of recovery of arrears swiftly and keep up to date from thereon in.
Cleaning
We have dedicated teams of fully vetted and well trained commercial cleaners who provide a professional and reliable service to our commercial customers; from daily, or weekly office cleaning through to deep cleaning kitchens, carpet cleaning
General Labour
We provide a team of general labourers who can assist you with heavy lifting, moving objects, loading and unloading, general wrapping and packing, moving pallets and general yard work.
Traffic Management
Building Management and Total Outsourcing Solutions
Many businesses find themselves in an awkward position when it comes to maintaining their buildings, their grounds, doing odd jobs or even pest control. We can offer services from caretakers to pest controllers. Using a commercial caretaker services is a cost effective solution to a long term problem. It ensures that premises are kept up to a high standard.
Generally, caretakers will have a wealth of experience when it comes to things like DIY, so they will be able to do the majority of the jobs without the business having to employ another contractor to get the job done. Obviously this will save businesses lots of time and also lots of money, which is why so many businesses are using commercial caretaker services rather than employing one.